The Inn, Innkeepers and Ashland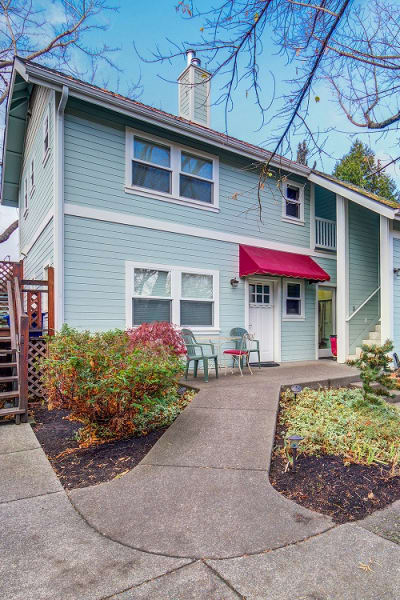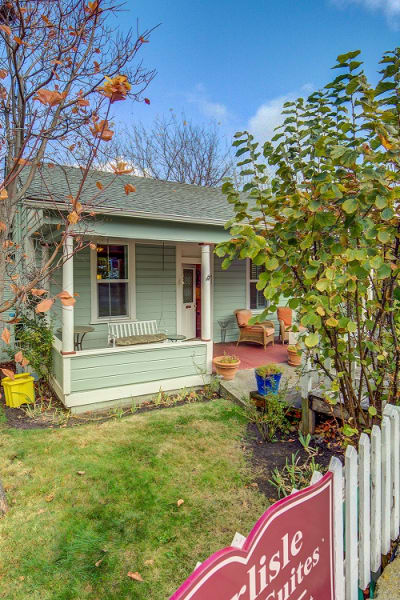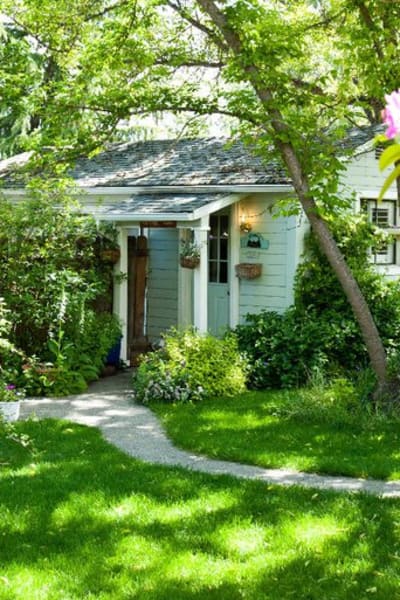 Carlisle Garden Suites offers the privacy of rooms and suites with separate entrances, kitchenettes, jetted tubs, decks or porches.
The nine Garden Suite rooms are in three buildings, two of them built in the 19th century, and just updated this Fall, and one built in 2009. These beautifully decorated rooms and their porches offer reading and dining areas overlooking a tranquil garden, with views of the mountains. Morning serenades by local birds, and regular visits from pansy-eating deer, add to the sense that you are in a place outside of time.
The suites are unique, appealing to travelers who want a cozy environment, with luxury touches. Each suite has a fully equipped kitchenette with induction cooktop, fridge, and sink. Furnishings include a comfy chair or two for reading and relaxing, a table and chairs for eating, and pillow-top comfort beds. Two rooms, Calla and Pomegranate, have queen beds. Viola, Jasmine, Chamomile, and Daisy have king beds that can be separated into twins, at your request. Iris, Rose and Marigold, have the same King/twin option, with an additional daybed, that can sleep a third person. Marigold even has an additional trundle bed for cozy groups of four. The beautiful luxury baths include jetted tubs in most rooms, a beautifully tiled shower in Iris, and a multi-headed shower in Viola and Marigold. Two rooms, Viola and Iris, are pet-friendly. Viola sports a glassed-in porch that makes a perfect spot for your dog to rest.
Carlisle Garden Suites is just a short 2 blocks from picturesque downtown Ashland. You can easily walk to restaurants, shops, and theatres. Most people park their cars when they arrive, and don't use them again until they leave. In fact, if you are flying in, we can arrange to have you picked up at the airport, and you will never need a car. Not only is Ashland a very walkable town, there are also bicycle rentals a block away, that can take you into surrounding areas.
What to do while you are in town? Of course, Ashland's famous Oregon Shakespeare Festival is our biggest draw. Hosting eleven plays in three theatres, the Festival is much more than Shakespeare, with newly commissioned plays each year, musicals, and serious dramatic presentations. Each evening (except Monday) during the festival, The Green Show, a free outdoor arts experience, is available on the plaza outside the theatres.
Beyond the Festival, the Rogue Valley is award-winning wine country. Wineries throughout the area host tasting rooms, concerts, and special events on a daily basis. Hiking and outdoor sports abound in our gorgeous corner of the planet! Within the city, our crown jewel, the 100 acre Lithia Park has been named one of the top ten Great American Spaces. From jetboating on the Rogue River, to skiing Mt. Ashland, there are exciting outdoor adventures year-round.
For the more sedate traveler, the shops and restaurants of Ashland provide endless sweet spots to have tea and read a book, shop at unique locally owned boutiques, and to people-watch. Not far away, Jacksonville offers a picturesque downtown and is home to the famed Britt Festival, bringing music of all genres in a magnificent outdoor setting.
The Inn Keepers, Linda Reppond and Walter Carlisle, purchased the property in the Fall, 2017, from David and Deedie Runkel, longtime Inn Keepers of Anne Hathaway's Cottage and Garden Suites. It has been re-named Carlisle Garden Suites in honor of Walter's father, Walter Carlisle, Jr., whose generosity made this opportunity possible. After spending several months updating the rooms, we are excited to re-open and invite you to come and experience the Carlisle Garden Suites.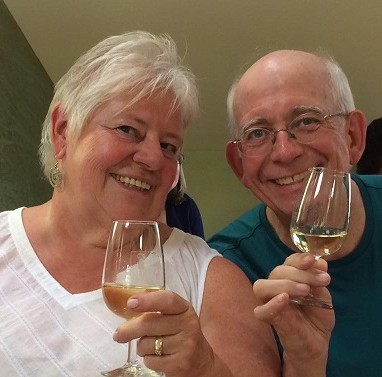 Amenities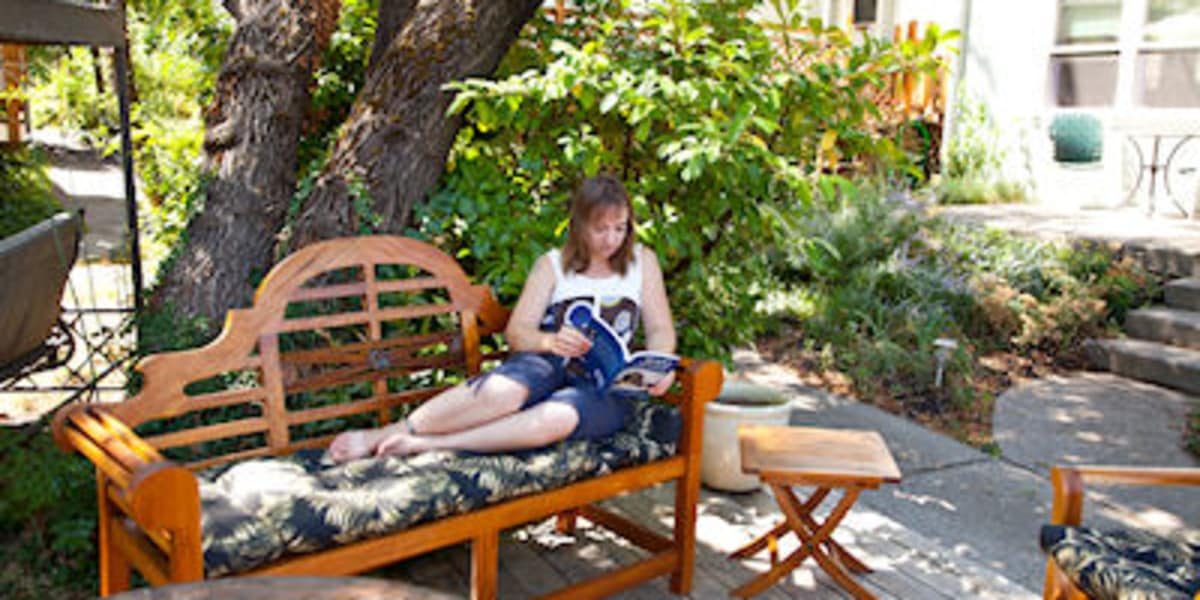 Amenities at Carlisle Garden Suites include:
Proximity to Oregon Shakespeare Festival
Kitchenettes in Every Room
Private Baths with Jacuzzis (except in Pomegranate, Viola and Marigold)
Multi-headed luxary showers in Viola and Marigold
Wireless Internet
Telephone & Facsimile Available
Fully Air-Conditioned
Color TVs in Iris and Rose
Porch or Deck with Every Room
Outdoor Tables/Chairs for Relaxing or Meals
Off-Street Parking
Spacious Gardens
Scent-Free Environment (except when the Jasmine is blooming; we can't help it)
Room rates do not include 10.8% in local and state occupancy taxes.